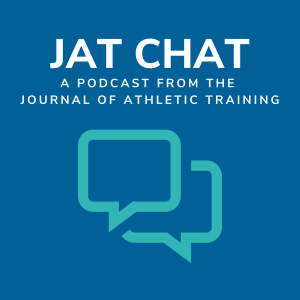 Monday Sep 20, 2021
JATChat | A Roundtable on Sport-Related Concussion Assessment and Care
Dr. Kara Radzak discusses recent updates in sport-related concussion assessment and rehabilitation with Dr. Abigail Bretzin, Dr. Jaclyn Caccese, and Dr. Justin Karr.
Dr. Abigail Bretzin is a certified athletic trainer (AT) and a postdoctoral research fellow at the University of Pennsylvania in the Penn Injury Science Center. She is a collaborative member of the Ivy League-Big 10 Epidemiology of Concussion Study, and is a member of the COllaborative Neuropathology NEtwork Characterizing ouTcomes of TBI (CONNECT-TBI) Data Coordinating Core. Her primary research focuses on the epidemiology of concussion and traumatic brain injury (TBI), emphasizing socio-demographic factors related the injury including sex and gender differences, to inform areas for primary, secondary, and tertiary prevention. 
Dr. Jaclyn B. Caccese is an Assistant Professor in the School of Health and Rehabilitation Sciences at The Ohio State University College of Medicine and a member of Ohio State's Chronic Brain Injury Program. She completed her BSE in Bioengineering at the University of Pennsylvania, and MS and PhD in Biomechanics and Movement Science at the University of Delaware. Her research focuses on understanding the short- and long-term effects of contact sports participation and sport-related concussion with the overarching goals to inform public policy regarding youth sports participation and to improve outcomes in current and former athletes.
Dr. Justin Karr is an Assistant Professor of Clinical Neuropsychology in the Department of Psychology at the University of Kentucky in August 2020. He completed his Ph.D. in Clinical Psychology with a Neuropsychology Specialization at the University of Victoria in 2018, where his doctoral studies and research were supported by the Vanier Scholarship. He completed my clinical internship year at the Seattle VA hospital, and my postdoctoral training within the Harvard Medical School system at Spaulding Rehabilitation Hospital and Massachusetts General Hospital. His research to date has focused on neuropsychological assessment methods, cross-cultural validation of psychological tests, cognitive aging, and the psychological and cognitive sequelae of brain injury.